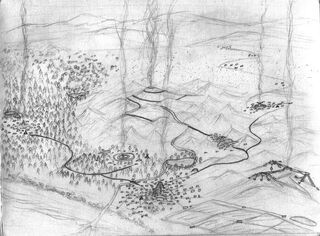 Fall and Rise is the first novel written in the Lower Knight universe, by Andy Wright. It begins the Two Edged Saga, which begins the Emergence Era of the timeline. It has only be released in small galley proof runs. 
Plot Summary
Edit
Fall and Rise follows the beginning of Will Carpenter's Lower Knight training, which is intertwined with his seemly fruitless efforts to win the heart of a former schoolmate. 
She's also the daughter of a powerful businessman, who's currently working with a strange man named Bond on a project no one is quite aware of all the details concerning. 
All this eventually leads to several confrontations out in a dangerous desert north of all major cities in Two Edged. As a result, Will's power as a Lower Knight begins its great rise.
As in all the Two Edged Saga novels, the stories take place entirely in the isolated, titular region. The residents know nothing of the rest of the world of Atanoah, having even forgotten the name of their world.
Throughout the novel, Bond is carefully manipulating everyone around him in preparation for something that is not quite clear. All the while he's receiving instructions from someone outside the region.  
Community content is available under
CC-BY-SA
unless otherwise noted.